Tripawds is a user-supported community. Thank you for your support!
Mya has been doing very well with her surgery and the 5 rounds of chemo, even bounced off a couple of minor skin infections. She seems to be very healthy no side affects at this point, her coat is coming back, she has almost mastered the 3 step. Mya and Macleod both really dig the snow, Mya has done well in the snow and its been icy here. She is sitting in the office with me now.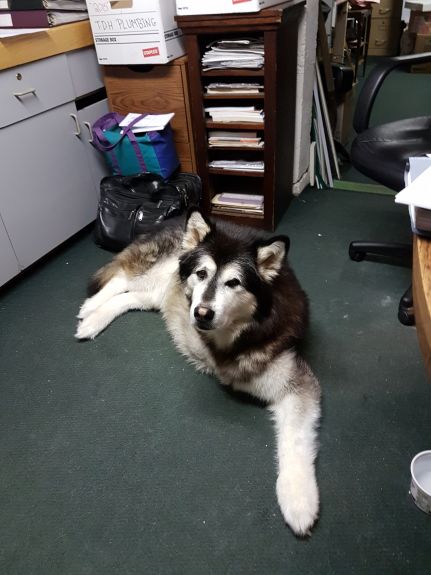 She just said " AROOOWOOWOOWOOoo..! " That means, stop taking my picture already!!, some cell phones freak her out…
We had Mya's first follow-up appointment Jan 3 2017, she's a "wiggly" one so they give her a mild sedation for her procedures. We drop her off in the morning and pick her up in the afternoon once she's past recovery. Usually we are dealing with the bill at the counter when Mya comes out and she wants to stand up at the counter and say hi to everyone, but this time we had to sit with the doctor to go over the findings. She said they found something in the chest Xray … it sounded like a car crash… felt like it too, I actually got a ringing in my ears like I just ran into a wall. They did 2 images of her chest at different angles and can see two items in one image but not in the other, bearing the hope that the anomalies are not located in the lung but out side maybe near the surface. We are planning a CT scan this week of both the chest and abdomen to determine weather there has been any spread to other organs and weather she is a candidate for a Metastectomy. If it turns out to be cancer our options are surgery, or an oral chemo which also has two protocols. Surgery is a lesser option for us and has had a lower track record of success. The chemo option is Piroxcam and Cytoxin with the second protocol adding Palladia to the other two. We are hoping to get some good news from the CT scan but for now we are just going to try and love her to death. I'm still looking hard at CBD oil and still can't find the negative, aside from THC being harmful or at least poorly tolerated in animals. There are a number of places locally claiming to have pure CBD oils now. A good friend of mine has a plus prime Boston who has been having seizures, he has been giving him CBD and is controlling them. If he has a seizure he rubs a little on the gums and within seconds there is a change. He will come out of it in half the time and recover in hours rather than days. More and more people I hear that get it for their elderly parents. If it were just my body in this, there would be no question. I see where the politicians have a hard time, Geeezz did I just say that. I don't want to jump into something if I'm not sure, but in the very same hand I don't want to wait if it won't do any harm.  We will keep throwing punches…  Oh ya! and kicks… the other day Mya and I were playing on the bed and in flopping around she chicken kicked me right in the liver, right out'a fight night, if I was standing I'd of hit the floor. So she's still got a lot of fight in her.